Pelanggaran Kode Etik Penyelenggara Pemilu Pada Pemilihan Kepala Daerah Ditinjau dari Hukum Islam
Keywords:
Code of Ethics, Election Organizer, Islamic Law
Abstract
Data on violations of the Election Organizer code of ethics until 2020 tends to increase. The possibility is increasing considering the simultaneous regional elections in 2020 are in covid pandemic. The main problem of this paper is related to the regulation of the code of ethics in terms of Islamic Law and the problem of violating the Code of Ethics by Election. The majority of the organizers, election participants and reporters in the code of ethics trial are Muslim, so it's interesting to study them with normative juridical analysis. Islam does'nt recognize a strict separation between law and ethics. Ethics is a part of morals that concerns human behavior that's outward in nature, and also includes broader matters, namely faith, worship, and sharia. Violation of the code of ethics can be prevented by carrying out the values of piety by referring to three aspects, namely al-karîmah morals, uswatun hasanah and rahmatun li al-'âlamîn.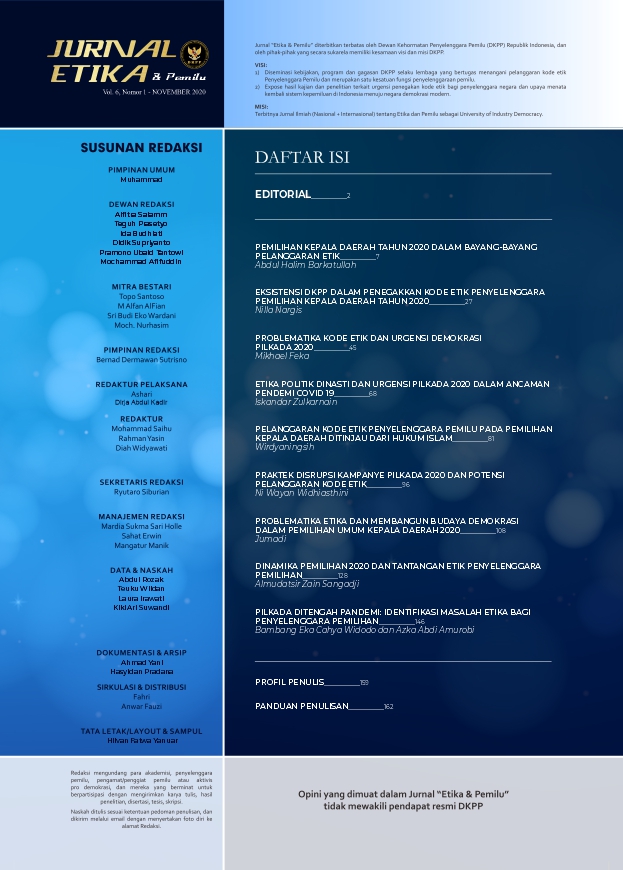 Downloads
How to Cite
Wirdyaningsih. (2020). Pelanggaran Kode Etik Penyelenggara Pemilu Pada Pemilihan Kepala Daerah Ditinjau dari Hukum Islam. Jurnal Etika Dan Pemilu, 6(1), 96–114. Retrieved from https://journal.dkpp.go.id/index.php/jep/article/view/13