Political Ethics in Indonesian Election: The role of Election Human Resources Council (DKPP) to Fulfill Election Integrity
Keywords:
ethics, politic, election, election integrity
Abstract
Elections are expected to be held based on the standard provisions of the laws and codes of conduct of the organizer because public expectations of the process and results with integrity are quite strong. Elections are intended not only to fulfill the political rights of citizens in choosing leaders but are aspired to be an ideal concept to produce national leaders who have high moral commitment and state ethics. Then the ethical elections or in the terminology with integrity should be manifested in practice. Therefore, the integrity of elections requires the importance of awareness of organizers and participants to submit to and comply with the legal and ethical principles (rule of law and rule of ethics) simultaneously. DKPP as a judicial code of ethics for election administrators is constructed by the electoral law to oversee and ensure that the management of stages can be carried out based on the principles of fairness and the principles of election administration itself.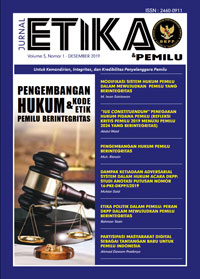 Downloads
How to Cite
Rahman Yasin. (2019). Political Ethics in Indonesian Election: The role of Election Human Resources Council (DKPP) to Fulfill Election Integrity. Jurnal Etika Dan Pemilu, 5(1), 50–61. Retrieved from https://journal.dkpp.go.id/index.php/jep/article/view/8