Participation Of Digital Community As A New Challenge For Indonesian Elections
Keywords:
election, integrity elections, social media, democracy
Abstract
The 2019 election was the first simultaneous elections to be held amid the digital literate Indonesian society. The digital community itself becomes a new challenge in realizing the integrity of the elections. Demands for transparency, accuracy as well as easy access to information faster become the characteristic of the digital society. The digital community has its own public space, which is social media, which then becomes a new public sphere for people to talk about all sorts of issues including politics. It is not wrong if social media, as one of the Internet products that became the 5th pillar of Democracy, in addition to executives, legislative, judicial, and the press. In the development of social media has a special role in establishing a highly developed democratization Strategic. The community freely expresses its political aspirations. However, in realizing its integrity in the digital age, it does not leave the conventional system, but complementary, synergistic, and integral. Those who can deny the media of conventional and digital participation (social media) will reap optimal results. With the synergy between the two, democracy will also be stronger.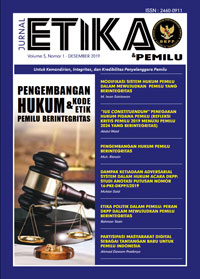 Downloads
How to Cite
Ahmad Dawam Pratiknyo. (2019). Participation Of Digital Community As A New Challenge For Indonesian Elections. Jurnal Etika Dan Pemilu, 5(1), 62–76. Retrieved from https://journal.dkpp.go.id/index.php/jep/article/view/9