Problematika Kode Etik dan Urgensi Demokrasi Pilkada 2020
Keywords:
: quality election administrators, ethics and district head election
Abstract
The concretization of the implementation of people's sovereignty is the sustainable implementation of elections or regional elections. To realize the sovereignty of the people, the quality of election organizers is really needed. The election organizers have to keep the principles of election administration firmly. Those principles are independent, honest, fair, legal certainty, orderly, open, proportional, professional, accountable, effective and efficient. It is not easy for the election organizers to create conducive conditions, both in terms of regulations (laws) and in terms of ethics in organizing regional elections amid the pandemic of corona virus 2019 (covid-19. The success of the elections in 2020 is not only determined by the election organizers, especially General Elections Commission (KPU) and Election Supervisory Agency (Bawaslu) along with their own staff, but also it is fully supported by either district heads election (Pilkada) participants (candidate pairs), political parties, campaign teams, communities, or all existing stakeholders. Election Organizer Ethics Council (DKPP) as an institution protected by Law Number 7 of 2017 concerning Elections to maintain the election organizers'dignity through enforcement of a dignified ethic code is a must, although there are several challenges that can potentially be experienced in upholding this ethic, that is to say, DKPP is passive. The scope of the ethic code is normatively limited; the nature of the final and binding decision has begun to be disturbed; and adjustments to the ethic code trial has begun to be based on the covid-19 one (the issue of video conference versus assembly beliefs). The implementation of elections amid a pandemic is a test for election organizers to truly comply with the ethic code and law in order to create quality elections.
References
Arief, Barda Nawawi, Pembaharuan Hukum Pidana dalam Perspektif Kajian Perbandingan, Bandung: Citra Aditya Bakti, 2011;
Bruggink, JJ.H, Refleksi tentang hukum pengertian-pengertian dasar dalam teori hukum, Penerbit PT Citra Aditya Bakti, Bandung, 2011;
Huijbers, Theo, Filsafat Hukum, Penerbit Kanisus, Yogyakarta, 1995;
Laporan Kinerja Dewan Kehormatan Penyelenggara Pemilu 2019
Muhammad, Peradilan Etika Pemilu Penguatan Akuntabilitas Penyelenggara Pemilu, Penerbit Sekretariat DKPP, Jakarta, 2019;
-----------------, MATERI DEWAN KEHORMATAN PENYELENGGARA PEMILU PADA ACARA RAPAT DENGAR PENDAPAT DENGAN KOMISI II DPR-RI, Jakarta, 10 September 2020;
Prasetyo, Teguh dan Muhammad, Kelembagaan Pemilu Untuk Pemilu Bermartabat Suatu Orientasi Teori Keadilan Bermartabat, Penerbit Nusa Media, Bandung, 2019;
-------------, Teguh, Pemilu dan Etika Penyelenggara Pemilu Bermartabat, Penerbit Nusa Media, Bandung, 2019;
Rengka, Frans J. Dialog Hukum dan Keadilan, Penerbit Genta Press, Yogyakarta, 2015
Jurnal, koran dan internet
Ariyanti, Vivi, Jurnal Yuridis Vol. 6 No. 2, Desember 2019: 34 - 35.
Feka, Mikhael, Opini: Pilkada Berkualitas di Tengah Pandemi Covid-19, diterbitkan oleh rakyatntt.com, tanggal 28 Juni 2020;
------------- Pilkada di Tengah Pandemi, Opini Pos Kupang edisi 21 September 2020;
https://www.untan.ac.id diunduh pada tanggal 19 September 2020 pukul 16.25 wita ;
https://dkpp.go.id/dkpp-berhentikan-anggota-kpu-ri-evi-novida-ginting-manik/ diunduh pada tanggal 26 September 2020 pukul 20.55 wita
https://www.dosenpendidikan.co.id/etika-adalah/ diunduh pada tanggal 24 September 2020 pukul 18.30 wita
https://www.dosenpendidikan.co.id/kode-etik/, diunduh pada tanggal 22 September 2020 pukul 19.30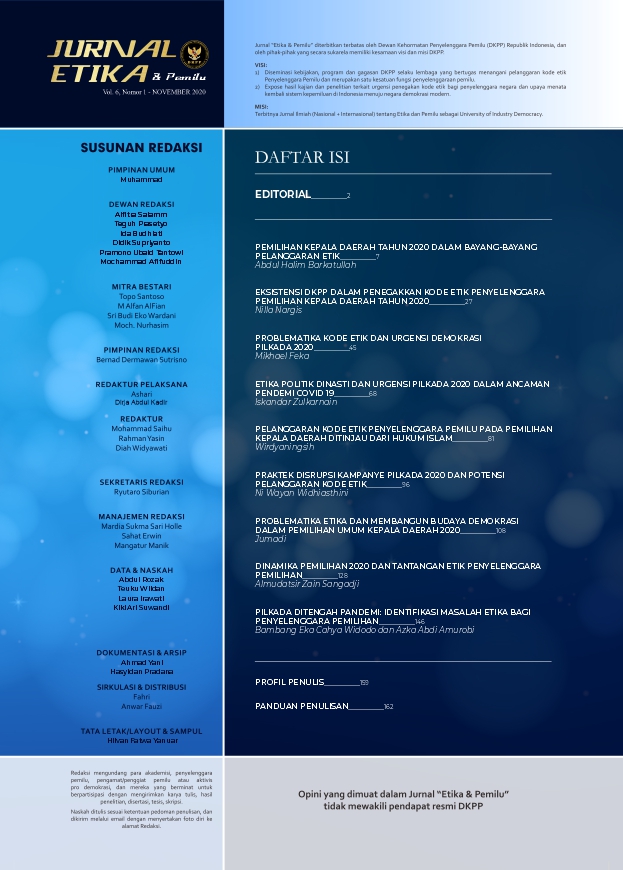 Downloads
How to Cite
Mikhael Feka. (2020). Problematika Kode Etik dan Urgensi Demokrasi Pilkada 2020. Jurnal Etika Dan Pemilu, 6(1), 50–79. Retrieved from https://journal.dkpp.go.id/index.php/jep/article/view/11