"Ius Constituendum" of Election Criminal Law Enforcement (Critical Reflection on 2019 for 2024 Election With Integrity)
Keywords:
Election, ius constituendum, election offences, money politics
Abstract
The 2019 Election Implementation raises several notes that deserve to be evaluated. This is important to do so, in order that the implementation of elections in the future will be of higher quality and integrity. Considering all of it, Elections determine the life of the nation and state. In the election determined by the people's representatives and leaders of the nation who will take control of the government for five years. Therefore, This paper will discuss ius constituendum for the enforcement of criminal law on election as a critical reflection of the 2019 Election towards the 2024 Election with integrity. In conclusion, how to create an election with integrity, there are three things that must be done. First, the improvement of the draft law on elections where "everyone" is prohibited from conducting money politics. Second, strengthening the authority of the Election Supervisory Body as an institution overseeing the election.  Third, the punishment paradigm in term of elections should be and only be applied to money politics and actions that threaten election security.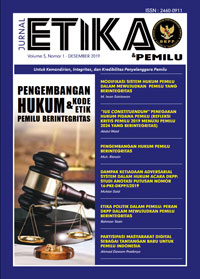 Downloads
How to Cite
Abdul Waid. (2019). "Ius Constituendum" of Election Criminal Law Enforcement (Critical Reflection on 2019 for 2024 Election With Integrity). Jurnal Etika Dan Pemilu, 5(1), 12–27. Retrieved from https://journal.dkpp.go.id/index.php/jep/article/view/3