Existency Of DKPP In Enforcement Of The Organizers Code Of Conduct For 2020 Head Regional Election
Keywords:
DKPP, Head regional election, Covid-19
Abstract
The implementation of regional head election is an effort to manifest democracy at the local level that people are able to directly elect the candidates for their regional head. However, in its development, the implementation of regional election has become a polemic regarding the covid-19 pandemic in the world including Indonesia.If the election will continue to be implemented there is a risk of increasing number of sufferers and if it is not implemented there will be no development in the regions because there is no definitive regional head.In addition the function of DKPP as an ethical enforcement agency for election organizers has received serious attention related to the partial authority of DKPP. DKPP only assessed the ethics of the election organizers but they ignored it when the election organizers did not comply with the covid-19 protocol in the implementation of the election stages.This research used qualitative methode with the type of concept analysis. The data collection technique used literature study that come from books, articles, journal,and various news in the mass media.The secondary data, the author get through interview with informant who is positioned as election organizers. The result of the analysis that authority needs to be strengthened of DKPP not only ethical enforcement but also enforcement of covid-19 protocol.
References
Agus Riwanto,Hukum Partai Politik dan Hukum Pemilu di Indonesia. Yogyakarta: Thafa Media. 2016
Dawam Pratiknyo, Moral Politik Dalam Mewujudkan Pemilu Yang Demokratis, Jurnal Etika dan Pemilu, Volume 3 Nomor 2 Juni 2017
Hoesein,Z,A&Yasin,R. Pemilihan Kepala Daerah Langsung (Penguatan Konsep dan Penerapannya), Jakarta Timur,LP2AB,2015
Hasyim Asy'ari, Konsolidasi Demokrasi (Pergulatan Politik Pemilu di Indonesia),Yogyakarta,Thafamedia,2019
Heru Widodo, Hukum Acara Sengketa Pemilukada (Dinamika Di Mahkamah Konstitusi),Jakarta,Konstitusi Press,2018
Idha Budiarti,Rekontruksi Politik Hukum Penyelenggaraan Pemilihan Umum di Indonesia, Sebuah disertasi Progam Doktor Ilmu Hukum Universitas Diponegoro, Semarang, 2018
Jayus, Rekonseptualisasi Penyelesaian Perselisihan Tentang Hasil Pemilu di Indonesia, Sebuah disertasi pada progam Doktor Fakultas hukum Universitas Brawijaya Malang,2014
Jimly Asshidiqiie, Peradilan Etik dan Etika Konstitusi,Jakarta:Sinar Grafika,2015
Leo Agustino,Politik Lokal dan Otonomi Daerah,Bandung:Alfabeta.2014
M.Iwan Satriawan dan Ade Arif Firmansyah, Diskursus Penanganan Pelanggaran Pemilu dan Pembentukan Peradilan Pemilu, Yogyakarta, Graha Ilmu,2019
______________, Melawan Hegemoni Parpol dalam Pilkada (Upaya Pemenuhan Hak Asasi Pemilih dalam Pilkada),Jurnal Bawaslu,Vol.3.No.1,2017
_______________, Pengaruh Calon Kepala Daerah Perempuan dalam Pilkada (Studi Pilkada Lampung 2015-2018), Jurnal Adhyasta, Vol.4 No.2 2018,hlm.104
Muhammad Hatta, Untuk Negeriku (Menuju Gerbang Kemerdekaan), Jakarta, Gramedia Kompas, 2015
Rambe,K.Z, Perjalanan Panjang Pilkada Serentak, Bandung, Expose,2016
Refli Harun, Pemilu Konstitusional (Desain Penyelesaian Sengketa Pemilu Kini dan Ke Depan), Jakarta,Rajawali Press,2016
Sri Karyati, Peranan Pemimpin Informal dalam Sosialisasi Pemilu dan Pendidikan Pemilu untuk Membangun Pemilu yang Berkualitas dan Berintegritas, Jurnal Etika Vol.3 Nomor 2 Juni 2017
Syamsuddin Haris,Konflik Presiden-DPR dan Dilema Transisi Demokrasi di Indonesia,Jakarta:Pustaka Utama Grafiti,2007
Suharizal, Pemilukada (Regulasi, Dinamika, dan Konsep Mendatang), Jakarta.Rajawali Press,2012
Teguh Prasetyo dan Muhammad, Kelembagaan Pemilu (Untuk Pemilu Bermartabat Suatu Orientasi Teori Keadilan Bermartabat), Bandung,Nusamedia,2019
Wilma Silalahi, Demokrasi, Pilkada dan Penyelesaian Hasil Pilkada di Mahkamah Konstitusi, Jakarta,Rajawali Press,2020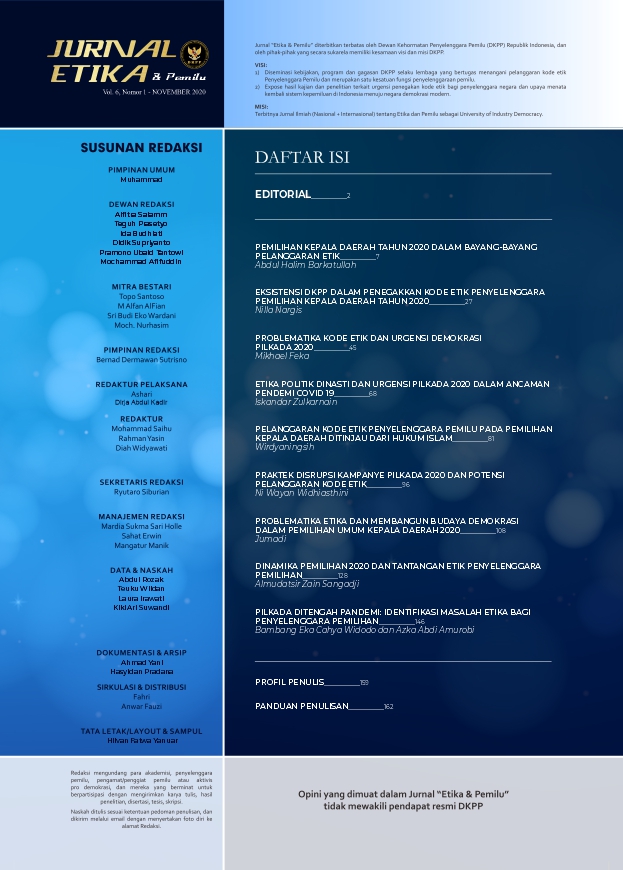 Downloads
How to Cite
Nilla Nargis. (2020). Existency Of DKPP In Enforcement Of The Organizers Code Of Conduct For 2020 Head Regional Election. Jurnal Etika Dan Pemilu, 6(1), 26–49. Retrieved from https://journal.dkpp.go.id/index.php/jep/article/view/10